YETI 500X HIGHLIGHTS

Power a Wide Range of Devices
Yeti 500X is equipped with four different port options—including AC, 12V, and 60W USB-C PD—to power everything from phones to portable fridges.

High-Speed Charging Solution
Equipped with the latest charging technology, including a high-speed Power Delivery port capable of charging USB-C laptops, tablets, mirrorless cameras, and phones in a fraction of the time.

Experience Unlimited Power
Charge the Yeti 500X from the sun with our portable solar panels while away from the grid and keep it topped off from a wall outlet when you're home. Featured MPPT charge controller ensures you're getting the most efficient solar charge possible.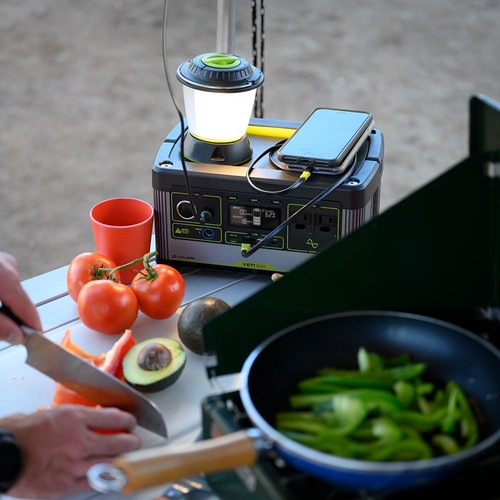 WHAT CAN THE YETI 500X POWER?
Recharges
Smart Phone (12 Wh): 42
Tablet (30 Wh): 17
Laptop (50 Wh): 10
POV Camera (5 Wh): 101
DSLR Camera (18 Wh): 28
Head Lamp (5 Wh): 101

Hours of Runtime
GZ Light (4.5 Wh): 112
Light Bulb (11 Wh): 46
CPAP (65 Wh): 8
TV (42" LED) (100 Wh): 5
Pellet Grill (60 Wh): 9
Portable Fridge (25 Wh): 20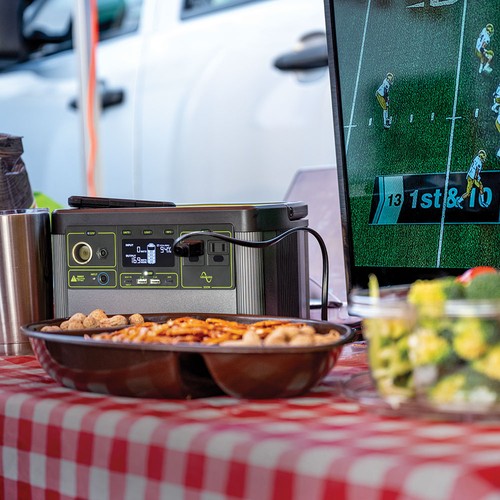 PAIR YOUR YETI WITH SOLAR
Take your Yeti completely off grid by pairing with one of our solar panels. There is a lot to consider when choosing a panel, but we've made the process simple. Check out the chart below to explore all your Yeti / Solar pairing options.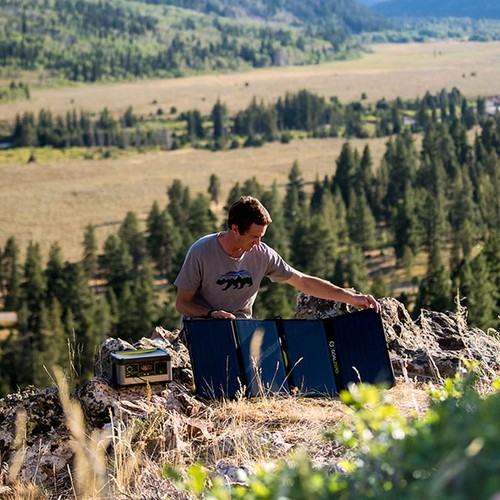 WAYS TO CHARGE THE YETI 500X

FROM THE SUN
Recharge from the sun by connecting a compatible solar panel, either the foldable Nomads or mountable Boulder solar panels. The higher the watts of the panel, the faster the charging times.

FROM THE WALLll
Plug it into the wall using the included 60W power supply for a full recharge in just 8.5 hours, or plug in with the Yeti X 120W Power Supply to halve that charge time. You can also use any USB-C power supply to charge the power station.

FROM THE CAR
Plug into your vehicle's 12V outlet using the Goal Zero Yeti Lithium 12V Car Charging Cable.
NOTE: Do not attempt to charge your Yeti from a 12V source using any other cable. Doing so may cause damage to the unit.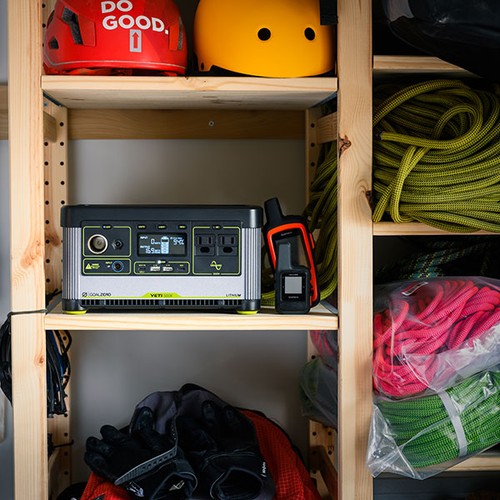 CHARGE TIMES
Maximum input (180W): 3 hrs
Car charger (120W): 4.5 hrs
Wall charger (60W): 8.5 hrs
Nomad 20: 29-58 Hours
Nomad 50: 12-24 Hours
Boulder 50: 12-24 Hours
Nomad 100: 6-12 Hours
Boulder 100 Briefcase: 6-12 Hours
Boulder 100: 6-12 Hours
Boulder 200 Briefcase: 3-6 Hours

PORTS
USB port (Output): 5V, up to 2.4A (12W max), regulated
USB-C port (Output): 5/9V, up to 3.0A (18W max), Regulated
USB-C PD port (Input/ Output): 5-20V, up to 3.0A (60W max), Regulated
6mm port (Output, 6mm): 12V, up to 10A (120W max)
12V car port (Output): 12V, up to 10A (120W max), Regulated
120V AC Inverter: 120VAC 60Hz, 2.5A (300W, 1200W surge) (output, pure sine wave)
Charging port (input, 8mm): 13-22V, up to 10A (120W max)

BATTERY DETAILS
Cell chemistry: Li-ion NMC
Pack capacity: 505Wh (10.8V, 46.8Ah)
Lifecycles: 500 Cycles to 80% capacity (Discharge rate: 0.2C, Full charge/discharge, Temp: 25C)
Shelf-life: Charge every 3-6 months
Management system: 'MPPT' charge controller, low battery protection

GENERAL
Product SKU: 36100
Chainable: No
Weight: 12.9 lbs (5.85 kg)
Dimensions: 7.5 x 11.25 x 5.8 in (19.05 x 28.58 x 14.73 cm)
Operating usage temp.: 32-104 F (0-40 C)
Warranty: 24 months

RUN TIME
Recharges
Smart Phone (12 Wh): 42
Tablet (30 Wh): 17
Laptop (50 Wh): 10
POV Camera (5 Wh): 101
DSLR Camera (18 Wh): 28
Head Lamp (5 Wh): 101

Hours of Runtime
GZ Light (4.5 Wh): 112
Light Bulb (11 Wh): 46
CPAP (65 Wh): 8
TV (42" LED) (100 Wh): 5
Pellet Grill (60 Wh): 9
Portable Fridge (25 Wh): 20
WHAT'S IN THE BOX
Goal Zero Yeti 500X Power Station
60W Wall Charger