Meet the world's first flatpack lantern that combines breakthrough edge-lighting with Bluetooth connectivity to bring you a portable lighting solution that doubles as your own miniature smartgrid. No bigger than a sandwich, the BaseLantern can light large group settings, charge phones and other devices, and offer real time battery feedback so you get the most from your off-grid energy. Free BioLite App included to turn your phone into an instant remote control for your outdoor hub.
FEATURES

500 Lumen Flat-pack Lantern & USB Power Bank
7800mAh USB Output (2x)
Total Control - Bluetooth Functionality With FREE App
Weight: 1.29 lbs

Full Features
1.500 Lumen Edge-Lit Lantern
Bright and even light in an ultra-packable form

2.Power Button
On/off/dim or press to cycle through modes

3.7800 mAh Rechargeable Internal Battery
Light and power for a full weekend - LEDs display battery remaining

4.Stainless Steel Folding Legs
Raise off the table, angle for task-lighting or hang from a branch

5.Micro-USB Charge In
No disposable batteries – recharge at home or on the trail with the BioLite SolarPanel 5+

6.USB Charge Out x2
Choose where your energy goes and charge 4 smartphones

7.SiteLight x2 and Control Panel
Create extended lighting with BioLite string light system

8.Bluetooth Low Energy (LE) App
Complete lighting control, timer, proximity activation, and real-time energy feedback. LE uses barely any power from your phone.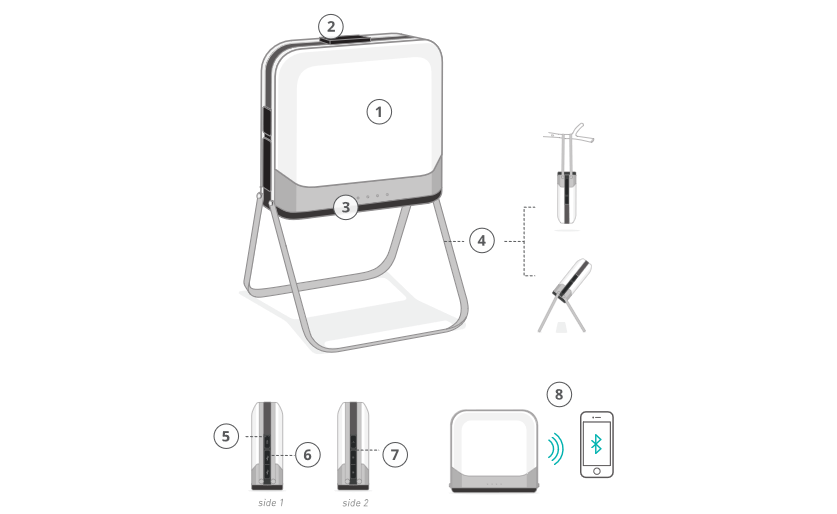 Tech Specs
| | |
| --- | --- |
| WEIGHT | 1.29 lbs (587 g) |
| LUMENS | 500 Lm |
| DIMENSIONS | 5.08 x 5.0 x 1.73 in (129 x 127 x 44 mm) |
| INPUTS | Micro USB |
| BATTERY | 7800 mAh |
| OUTPUTS | USB x2 SiteLights port x2 |
| BLUETOOTH APP | Runs on Bluetooth Low Energy (LE). Compatible with Android (4.3 and up) and iOS (10.0 and up). App not required for basic lantern functionality. |
| BURN TIME (HRS) | 54 LO / 5 HI |
| WATER RESISTANCE | IPX4 |
| IN THE BOX | BaseLantern, USB cord, Instructions |
Inside The App
Unlock the full potential of your BaseLantern with this Bluetooth Low Energy app. Whether you're deep in the backcountry or hanging out in the backyard, bring big light, shareable power, and smarter control wherever you go.
Features:
Full Color & Warmth Control
Auto On/Off With Proximity Activation
Real Time Power Usage Stats
Alarm & Timers
Lantern Effects
Videos
Meet BaseLantern
Inside the Tech
Big Light in a Small Space
1.Edge-Lighting: A unique textured pattern on the lens reflects the LEDs on a steep angle creating soft, even light along the entire panel without requiring a cavernous space typical of most lanterns.

2.High-Efficiency LEDs: White and RGB LEDs located at base of the lens provide warmth control and thousands of color options.

3.Rechargeable Battery: A 7800 mAh battery maximizes burn time and gives the ability to share light to the daisy-chainable BioLite SiteLights. USB-charge out powers your gear.

4.Stainless Steel Housing: Thinner and even more durable than plastic, the stainless steel housing works double time as a heat sink, helping the LEDs run more efficiently.